4 Branding Lessons On Surviving a Post-Pandemic Malaysia, as told by Jobbie
By Julia Koh & Syira Junaidi
May 2020
The Malaysian Movement Control Order (MCO) caused by the COVID-19 disease pandemic saw major changes. During this time, non-essential businesses were ordered to close and many had to work from home while many more went out of work. Everyone felt the strain, from graduating students, parents, long-distance families, to businesses and freelancers.
Jobbie Nut Butter is one such SMEs that is facing these strains. With their supply chain disrupted and revenues not coming in, the peanut butter brand realised they had to do something to keep their business afloat.
Recently, they posted a viral campaign on Facebook that had since garnered more than 2,000 comments and almost 4,000 social shares. The post made them temporarily famous, but not without its own controversy. We managed to reach out to Victor Chin, the CEO of Jobbie and asked him about what really happened during MCO.
But first, what is Jobbie?
Jobbie's name is a combination between the brand's two co-founder's name; Joseph & Debbie. They started 6 years ago when Joseph was 20 and Debbie was 19. Their love for peanut butter had them trying to make their own through self-learning and trial-error. In 2015, they changed their brand name from "Walao Weh!!! Peanut Butter" to the current name, with a new look and product benefits. Jobbie's differentiation comes from their locally-sourced materials, health benefits, and a quirky brand personality.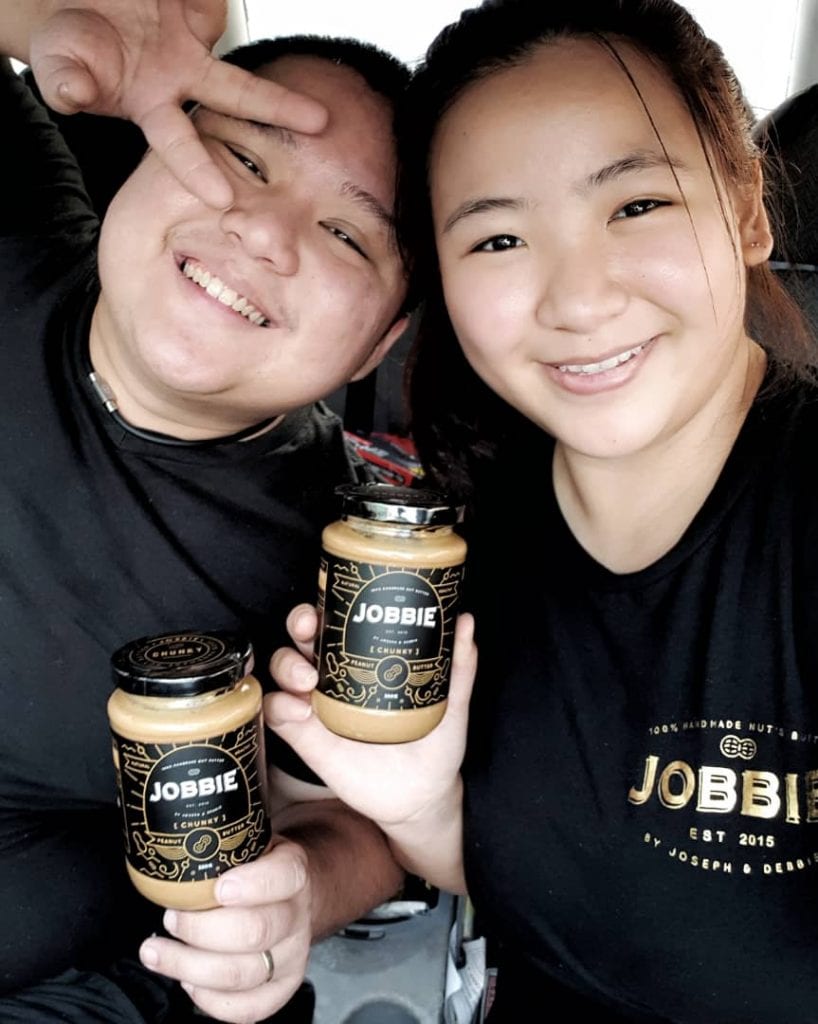 Joseph & Debbie, Founders of Jobbie.
So, what really happened to them?
According to Victor, their production was halted due to the inability of their suppliers to get a permit to operate. Things like lid, jars and other components cannot be shipped to complete their customers' orders. Thus, there was no revenue but there were still operating costs. So they decided to sell their products through pre-order to get the cash upfront and continue operating.
They did so through a Facebook post, promising a money-back guarantee if they can't deliver the pre-orders after 45 days. And the response was overwhelming, they had many pre-orders in the next few days. Grab even approached and included Jobbie in their discount online campaign for anyone paying with GrabPay. While the Facebook campaign did give them visibility, Victor said they still have more ground to cover in order to keep the business above the drowning line.
We asked him what he would have done differently knowing how badly their business would be affected during and post-MCO. What lessons were learnt during the ordeal?
Invest in Good Inventory Management
Jobbie had been relying on their very lean Just-In-Time (JIT) production before MCO, which means when production stopped, they ran out of stock very quickly to fulfil orders. This became the harbinger for their many business troubles. Victor learnt they should have a 6-month inventory buffer at a minimum.
JIT is common among SMEs where warehousing isn't necessary. While it can be cost-effective, it does put stress on production especially in times when materials are scarce. Therefore, SMEs should research and invest in good inventory management, such as third-party logistics (3PL).
Transition to Digital Sooner Than Later
Victor stressed on the importance of getting into digital marketing as soon as your operations allow it. Many SMEs tend to look at digital marketing as another distribution channel, which is the wrong way to leverage it. Digital business and e-commerce require new skill-sets, resources, and financial metrics which mean a traditional business would need to adapt to a whole new business model.
Digital marketing is also in-line with customers' current demand for more online options. The 'new normal', as Victor said, will change customer behaviour so there is no better time to start branding online than now.
Take Branding Seriously
Victor said that branding to Jobbie is very important. They believe that a brand represents a promise to the customer and they try to reflect that in every value chain to deliver the final product and experience to the customer.
Jobbie strives for quality from their ingredients, glass jars, labels, packaging, to protective measures taken during deliveries. Even if it means that production cost will rise, Jobbie will not skimp on quality as customer satisfaction is the aim of their branding. And especially in times of crisis, brand loyalty can play a huge role in keeping the orders coming in.
Always Have a Contingency & Future Plans
There are a lot of things Jobbie could improve for the future, quipped Victor. The first would be increasing investment in training as Jobbie value their employees highly. The second improvement is in product R&D where Jobbie can diversify their offerings and improve on quality and flavour. We might be looking at Jobbie-brand ice creams, chocolates, or even face masks (peanuts are reportedly rich in vitamin E & antioxidants).
The last but not least improvement is certainly Jobbie's contingency planning and supply chain management. MCO had taught them a valuable lesson on strengthening and diversifying their supply chain operations. Victor had said that they would not want to be caught in the same situation where Jobbie is either out of stock or unable to operate due to the inability of suppliers to operate. Proper contingency planning will be put in place.
In Conclusion
Victor encourages Malaysian brands, big and small, to quickly adapt to digital marketing and transition to the online business model. It is a suitable time now because the customer's need is changing in the new normal. Victor even gave a tip to aspiring brands; consider partnering or acquiring those who are already established online as a quick first step towards digital e-commerce.
What we learn from Jobbie is that we should support our local business and buy local brands. It is us Malaysians who will drive back the economy and help the country recover back from the pandemic. Hopefully, we can all learn from Jobbie about branding during a crisis.
We also admired how Jobbie put raw emotions out there and are not afraid to show their vulnerabilities, even though they drew some heavy criticism online. We thank Victor Chin for his time and wish Jobbie all the best! We look forward to finding more Jobbie peanut butter jars in stores soon.
Victor, CEO of Jobbie