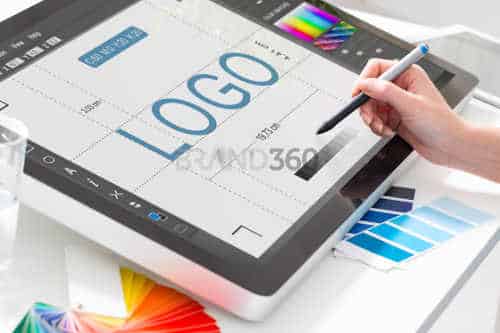 3 Types of Brand Logo & How To Design Your Own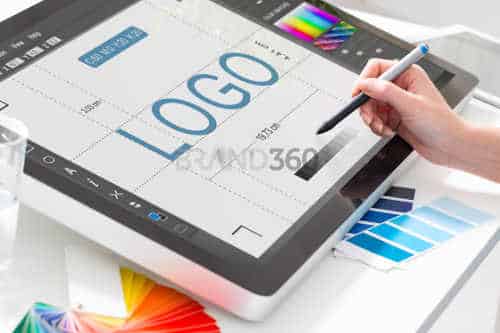 Two crucial parts to your brand are your brand name and your brand logo. These form the visual, verbal and implied meanings of your brand identity.
Your brand logo is that part of your company that most people will see first, so ideally, it should be descriptive and professionally presented. Most companies, whether creating a new logo or rebranding an existing one, invest a lot in developing the perfect logo, and they're not wrong. Brand logos bear the responsibility of communicating the brand's value, identity and purpose all in one. Getting a logo right is that crucial.
There are commonly three types of logo; name logos, picture logos and a combination of both. Let's look at each one:
Logotype / Wordmark
Logotypes, also known as wordmark is when the name of the brand is used as the logo. Logotypes are popular because while it represents the brand in its entirety, it also tells people what the brand name is, essentially doing two jobs in one nifty design. This type of logo would have fonts and colours that best presents the brand. Just take a look at our own brand identity – Brand360 uses the logotype format. Rather descriptive and distinctive, don't you think? The black and corporate-blue visually separate the words, while the font type remains clean, professional and straightforward while hinting at connectivity and integration. That's everything we want to portray as a boutique brand agency.


Other examples of brands using their names for the logo are IBM, Acer, Google, New Straits Times, and Coca-Cola.


In today's digital world, the logotype format works well because it doesn't take up as much space.

Icon / Symbol
With icons and symbols, you can get creative in portraying your brand. Of course, it comes with a risk. Designed the wrong logo and you'll be the everyone's laughing stock, such as what happened with the 2012 London Olympics logo. Looking like a hodge-podge swastika, some claim even the designers were embarrassed by it during its launch.
However, a brilliant icon logo can define the company and be the symbol of its reputation and success. Apple's logo bear a simple fruit from the Malus family, yet the brand has such devoted fans, fanboys even get Apple tattoos.

The symbolic logo itself is nothing amazing, but because Apple has branded themselves so successfully, their logo becomes a symbol of its own, and anyone seeing bearing the logo is associated with Apple's fame and success. Other good icons or symbols logo designs include Shell, Nike, Toyota, Pepsi and PlayStation.

A symbol format is the fastest one to reach the customer's mind, because it is recognisable and descriptive. There are no words for the brain to translate, only an image to remember. Brand identities that use symbols have the opportunity to cut through media clutter and identify the brand.

Combination Mark
Some brands mix it up a little by deciding that both name and icon would be their official logo. The combination mark is when a logo bears the brand name and an icon. This can be seen in Adobe, Burger King, Starbucks, Pringles, Nestle and other brands that incorporated both name and some form of pictorial elements.


With the combination mark, brands have the option of using the icon as a standalone representation of their brand identity, or together with the name. This format is the most flexible, but because there can be many variations, companies need to have a robust brand identity guidelines to make sure the brand is consistently well represented.
Some Tips on Designing Your Brand Logo
Include your brand personality
Your brand personality should be the essence of your logo; are you fun, smart, high-end or all three? What do you want your customers to feel about your brand? If you are a cupcake brand for children, it makes sense to revolve your logo around notions of deliciousness, fun and sweetness rather than adult themes of sensuality or adventure.
Think of a suitable colour scheme
Your logo would need a brand colour palette that fits into your personality. For example, we chose blue for our brand agency logo because we wanted to portray ourselves in a professional outfit. But we chose a bright and energetic blue, because that's who we are, and that's the kind of talent we want to attract as well; bright, energetic and brimming with ideas. Your logo colour acts to further communicate your brand personality.
Consider your typography
Your logo's font type should also mirror your brand objective and personality. Different fonts give off different impressions, and there are literally tens of thousands of fonts to choose from. And if you think none of them reflects what you have in mind, you can even customise your own font.Coca-Cola, Netflix, Intel and Airbnb have all developed their own fonts. To an extent, so did we!
You can consider designing a logo on your own, but if your brand has a complicated architecture, or if your brand logo will be used across many different materials, locations and applications, it would be better to have it professionally designed and thought out. Make sure to inform your brand agency of your preferences and samples of logos that you prefer, so that communication is clear. All in all, a logo for your brand has to be unambiguous, adaptable for all of your platforms and marketing collateral, and serves your brand in passing the right message to your audience.