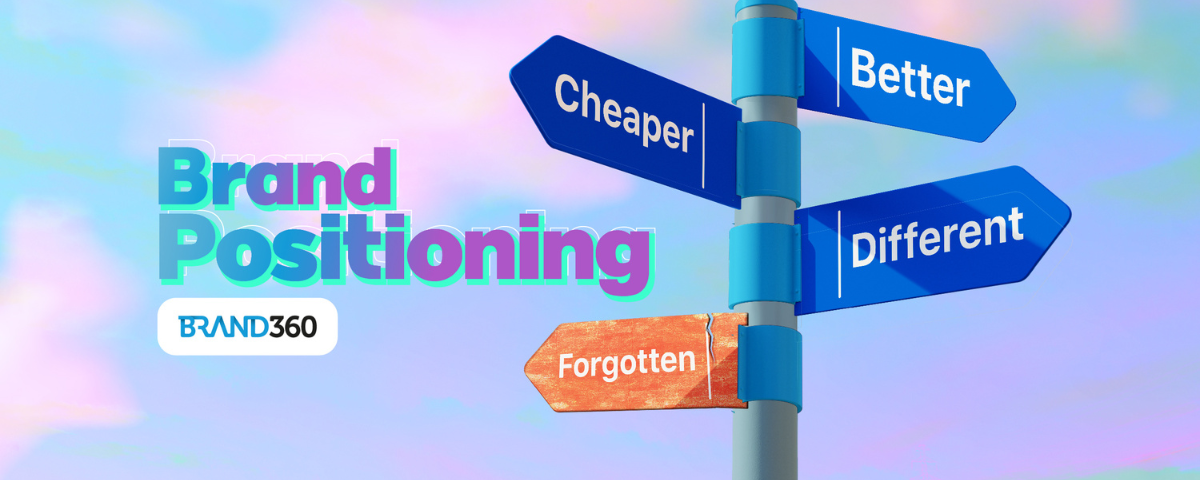 Brand Positioning Strategy: Better, Cheaper, Different, or Forgotten?
Brand positioning strategy is an essential part of any successful business.
It's about creating a unique identity that differentiates your brand from its competition.
But, how can you make sure that your brand stands out from the rest?
3 words;
Cheaper
Better
Different
If your brand doesn't offer any one of these X-factor, I'm sorry to say, it's heading straight to the Land of the Forgotten ☠️
And our job is to make sure it doesn't 🙅🏻‍♀️
To be a memorable brand takes a brilliant brand positioning strategy.
Did you know, the human brain can only remember up to 7 things at once?
Take 30 seconds right now to name 7 ready-to-drink coffee brands you can get in 7-Eleven.
Your 30 seconds starts now!
——
Time's up!
How many brands were you able to name?
Let me try and guess.
Nescafe must've been in the first few brands right? Wonda Coffee is one of the top names too.
Is Pokka in your list as well? Because it's definitely in mine 😉
Aside from Red Bull, Ribena, and Milo (note that those are non-coffee brands), our brain could only hold so much information.
Hence, when you personally have a favourite brand in mind, your brain takes a quick shortcut whenever it needs.
In the ready-to-drink coffee business, here's how most of our brain cells link:
Morning coffee = Nescafe
Exclusive and affordable coffee = Wonda
Less sugar coffee = Pokka
These top three brands have been around for some time.
But do you notice what makes them different from each other?
How does Wonda Coffee stand out from the rest?
What is Pokka known for?
Can you even beat Nescafe in their own game?
Relating back to the X-factors I mentioned before.
You don't need to beat a brand to have more sales than them.The trick is to be either Cheaper, Better, or Different from them.
Brand positioning is all about making your brand stand out from the rest, so don't bother trying to win in their game.
It's time to play ball in your own court!
Let's take a closer look at how Wonda Coffee and Pokka played their cards in their brandings.
🎵 Wonda Coffee 🎵
Before we jump into the analysis of Wonda's brand positioning strategy, I have a very important question for you.
Did you read the name of the brand 🎵 Wonda Coffee 🎵 by singing it in a specific melody? I know I did 🤣
They have one of the most addictive jingles in the coffee industry and when they first started marketing in Malaysia, it was literally EVERYWHERE.
Every radio, every commercial, every YouTube ads played Wonda Coffee's jingle, and no one could run away from it.
Wonda Coffee also spent a lot of time (and money) to get their brand everywhere possible; on billboards, rest stops, toll gates.
They really took the 'visual hammer, verbal nail' to a whole new level. But that's for another topic.
What made people want to buy Wonda Coffee wasn't just the mere fact that they were really good at advertising, they were also excellent in brand positioning strategy 💡
Wonda Coffee knew that going against Nescafe wasn't a choice. Like I said, don't play ball in someone else's court. Make a new court.
So Wonda Coffee took it as an opportunity to set themselves apart from other brands.
From the X-Factors (Cheaper, Better, Different), Wonda chose to be ✨ Better ✨
How so?
Check out this advertisement:
In the video, they portray having a coffee shop with a barista brewing fresh grinded coffee in the ready-to-drink can.
This fits perfectly with their concept of 'tastes like just brewed' which is also a metaphor for Wonda Coffee tasting better than any other canned coffee.
Even the colours Wonda associate with their brand identity – brown and gold – resonate with dependability, premium and high quality symbolisms.
Here are some other ad examples from Wonda Coffee.
Image credit: Wonda Coffee
Wonda Coffee clearly portrays their brand positioning as the better choice for ready-to-drink coffees.
What about other ready-to-drink brands like Pokka? Where do you think they stand?
🙌🏼 Pokka 🙌🏼
Image credit: Pokka
From the advertisement above, the difference between Wonda Coffee and Pokka is as clear as day.
Pokka mainly promotes 'no sugar' drinks which is different from any other ready-to-drink brands.
As they originate from a health-conscious country, you'll notice most of their products are made to be different from the rest of the industry.
That's what sets Pokka apart from their competitors. I mean, who else makes less sweet (and truly less!) ready-to-drink beverages in Malaysia 🧐
From their brand positioning strategy, you can already guess who Pokka targets; health conscious working adults who are looking for a quick drink on a busy day.
Quick, less sweet, and energising – Pokka knows just the right words to use and the right audience to choose 🙌🏼
We've looked at both Wonda Coffee and Pokka's brand positioning strategies in the market.
But what about their competitors? We all know Nescafe has a long and loved history with the citizens of Malaysia.
Most of us grew up smelling the scent of a hot Nescafe coffee served in a flaming red cup to start the day.
Their history with us is undeniable but in terms of their brand positioning strategy, Nescafe rules in a whole other court.
What do you think it is?
Key Takeaway 🔑
To stand out from your competitors, one of the most important things business owners must know is to position your brand and avoid being a forgotten or unseen name.
Like I mentioned in the article, you can't outshine a brand using the same message they offer, even if you're selling similar products.
But what you can do is position your brand in another perspective.
If being cheaper goes against your mission to provide good quality products or services, be…
✅ better – faster, better quality, friendlier service, etc
✅ different – provide an alternative that is unique and not common in your industry
❌ Don't risk not applying the right brand positioning strategy and being a forgettable name in your industry.
Take a minute after reading this article to evaluate where your brand belongs in this diagram.
We're only a coffee cup away when you need more guidance in brand positioning ☕️ Till then 👋🏼