Zus vs Gigi: The Great Coffee War of the 21st Century
I don't remember a time when I wouldn't crave for the bittersweet taste of coffee to start my day ☕
When was the last time you woke up and didn't look for a cup of coffee?
The first time I took my first sip of a 3-in-1 coffee, it opened my eyes to a new world and little did I know, there were more combinations to try, more beans to roast, and more brand reviews to post!
And so began my journey as a self-proclaimed coffee connoisseur 😎✍🏼
Before we jump to the top trends of coffee brands in 2022, let's take this chance to applaud the brands that set the bar high in our hearts and minds.
☕ Honouring the Classics

☕
1. Malaysian Classics
'Boss, kopi o satu!'
We all have a favourite store in mind when we crave for local coffee.
No matter the brand of coffee we use, Malaysians just know how to make heart-warming and fulfilling cuppa coffee.
Be it kopi o, kopi o peng, kopi o kosong, neslo (nescafe + milo), our local Malaysian classics will always be in our hearts.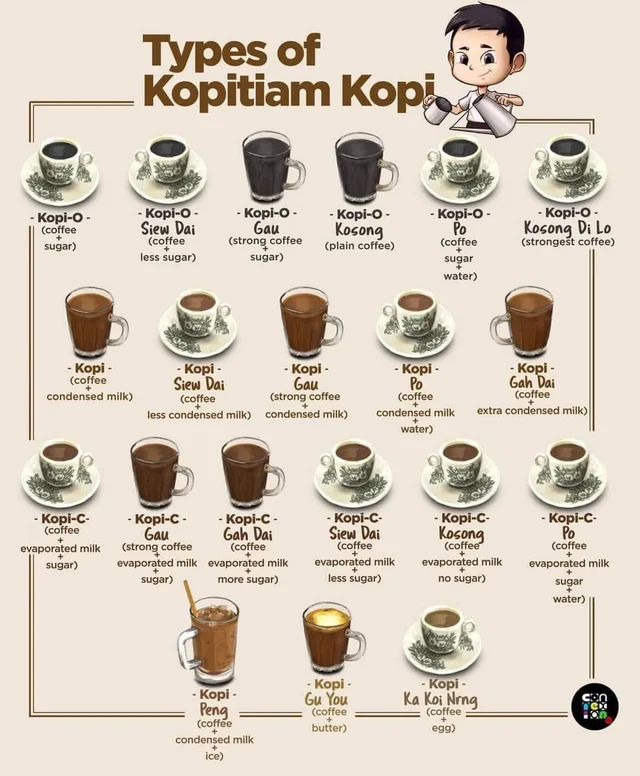 Image credit: Chai Wai Foong Jason
Would you consider Malaysian coffee a brand on its own despite being a combination of different beans and flavours?
2. Starbucks
When Starbucks launched their first branch in Malaysia, the popular culture of having coffee with your name on the cup went off the roof.
People loved the concept of it, and it was the ideal justification to take pictures for social media aesthetics!
Yes, I'm guilty of going to Starbucks to get my name written on a cup and to shoot photos for my Instagram too 🫣 It's not a crime!
Did you know, in the early years, there were conspiracy theories going around that said Starbucks baristas intentionally misspell common names like Amy and Bianca?
The owner of these misspelt coffee drinks would often take to social media to express their dissatisfaction but unknowingly to them, Starbucks gets free marketing just 👏🏼 like 👏🏼 that 👏🏼
People rushed over to their nearest Starbucks excitedly to see how baristas would spell their names and it was the curiosity that kept them coming back for more.
Starbucks's marketing skills are hands down one of the best and you simply can't deny it.
3. The Coffee Bean & Tea Leaf
This old but gold rivalry between Starbucks and The Coffee Bean & Tea Leaf (CBTL) is said to still run behind closed doors 👀
Taking ports not too far from each other, CBTL is known to serve beverages with richer flavours compared to Starbucks.
The other clear difference between CBTL and Starbucks lies in their overall branding personality.
Starbucks is known for their adventurous, independent and aesthetically pleasing identity like the Explorer that they are.
Meanwhile, CBTL is known for their warm, approachable and welcoming nature, portraying themselves as the perfect Regular Guy.
And CBTL have stood by this brand archetype for decades, marketing their high quality coffee beans and tea leaves using heartwarming taglines to promote relatability.
Jan 2022 & July 2014
Image credit: The Coffee Bean & Tea Leaf
These classics will always be in the pits of our hearts for years to come but with growing demand for affordable and trendy coffees, Malaysians began to venture new brands with new looks.
Some of the trendiest cuppa coffee you can get in town now are Zus Coffee and Gigi Coffee, or better known as their shorter names, Zus and Gigi.
Image credit: Zus Coffee & Gigi Coffee
They seem alike but little did you know, these two brands differ in many ways! Let's take a deeper look into their brand identities, target audience and their marketing strategies that led to their growth and healthy competition.
Brand Identity

😲

💡
To better understand the workings of each brand and their marketing strategies, we must first look into their brand identities.
Knowing that Malaysians constantly wish for coffee that is delicious, affordable and Instagrammable, the founders of Zus made it their mission to fulfil this unspoken public outcry. Hence, the creation of;
A Necessity, ⚡ not a Luxury
This tagline from Zus has been the driving force for the brand to approach customers who strive to belong in the 'coffee all-day everyday' community.
From this single line, consumers would automatically feel reassured that the coffee they offer is affordable and the goal to be part of the community is indeed achievable 🥰
And from the looks of their coffee cups, the aesthetically pleasing interior designing of their cafes, getting the Instagram-worthy updates is not a problem 📸
By making coffee affordable and the concept relatable, Zus truly embodies the Regular Guy brand archetype.
But it's not the only one 😆 It's common enough for brands to combine different brand archetypes, giving more depth to their identity.
Aside from promoting affordability and approachability, Zus is also emphasising on their innovative technology.
Their order and delivery system via the Zus mobile app is definitely a commendable aspect that shows how much they value the importance of being physically available for customers whenever and wherever.
Even their delivered drinks come with a protective layer that avoids any spillage throughout the delivery.
The Magician in them thrives alongside their Regular Guy approach, giving the brand a boost in their identity.
But isn't Gigi approachable and affordable too?
Yes! Gigi Coffee also embodies the Regular Guy archetype with the easy-going notion of their copywriting and visuals.
What differentiates them from Zus is that they aspire to inspire their consumers.
Your inspiration to do great in life, starting with "Everyday Great Coffee"
As you can see in the tagline, Gigi brings the message that with great coffee, you too can achieve great things in life, just like the Creator in them.
Even Gigi's menu is a source of inspiration for people to think outside the box and try something new 💡
View this post on Instagram
It's also not a wonder for Gigi to have a specialised cafe with a specialised interior that moves to inspire their customers – Gigi Coffee Home Barista.
Image credit: Gigi Coffee
They've provided an open space that promotes freedom for creatives to create, students to meet up and discuss for assignments, and overall inspire each and everyone of their consumers.
What better way to have coffee right?
Quick recap, we've gone through how both Zus and Gigi are both Regular Guys but they combine with two other different archetypes.
Zus is a combination of Regular Guy with the visionary Magician while Gigi is a combination of the Regular Guy with the inspiring Creator.
Now, let's look into the next aspect of what makes them different; target audience.
👨🏼‍🤝‍👨🏽

👩🏻‍🤝‍👨🏼

Target Audience

👩🏻‍🤝‍👩🏼

👨🏼‍🤝‍👨🏽
While you can say every coffee connoisseur is happy at the sight and scent of a coffee shop, Zus and Gigi targets different groups of people.
Zus is known to have much more physical stores as compared to Gigi, which also indicates that they are targeting to attract people who have access to their own transportation.
With the growing flexibility of working styles nowadays, people of the working class would often head to cafes that are accessible and affordable, making Zus one of the top brands in mind.
Statistically speaking, stand alone cafes like Zus often have less disturbances and are quieter compared to malls, where Gigi takes the front.
And to add to that, you'll find that Zus chooses locations that are close to offices and factories for their cafes. Not too hard to find affordable coffees nowadays, right 🫣🤭
Like I mentioned above, Gigi is much more often found in malls rather than stand alone cafes.
Do you remember walking around in malls after class when you were in college?
There wasn't any particular reason to be there but the idea of window shopping with friends was the best way to spend time while waiting for the next class.
I certainly do ☺️💭
Back then, it was the boba craze, and now it's coffee!
What's even more apparent that Gigi targets university and college students is that their coffees are sweeter than Zus.
It's no surprise that Gigi's Buttercream Latte was one of the most famous drinks when they first started out.
Their social media is quite the epitome of 'target the young with sweet and fun!'.
Speaking of which, let's jump into the last category of the Zus vs Gigi Coffee War 🏃🏽‍♀️
🎯 Social Media

Marketing Strategies

🎯
It doesn't take a pro-marketer to notice that the marketing trends have shifted to digital platforms ever since the pandemic.
Both Zus and Gigi are taking advantage of it!
Their presence on Instagram (one of the top reasons why their coffees are so Instagrammable) is impeccable!
Up till December 2022, Zus has 61.7 thousand followers while Gigi has 12.3 thousand followers 🤯
For Zus, their social media posts are catered to the working class, with emphasis on 'work hard, play hard' 💃🏻🕺🏻
View this post on Instagram
Even their giveaway prizes are more suitable for the working class.
View this post on Instagram
They sure know how to attract us 😍🥹
Meanwhile, since Gigi targets young university students, their captions and posts focus a lot on new menus to try, collaborations and new Gigi branches.
Their latest collaboration with Coach is a definite eye-catching campaign.
The feeling of posh and exclusive yet still affordable is exactly what students love 👏🏼
View this post on Instagram
Plus, Gigi even got some of the most famous Malaysian TikTokers to join the campaign!
Who else knows them better than university students 😆
Spot Imran Bard, Johanis and other top TikTokers in this video 🔍
View this post on Instagram
Key Takeaway 🔑
Here's a quick recap of what we've covered in this article.
All in all, Malaysia is evidently pro-coffee all day everyday! Despite the differences, we each have our preferences in terms of flavour and menu.
But with distinct marketing and brand strategies, each brand was able to get their message across and bring satisfaction to their consumers.
If you haven't tried these two brands, pick up their latest addition and let us know how you'd rate them (from the marketing perspective of course!).
To read more on brand wars, head to our Chatime vs Tealive where we spill more tea on the brands 🫣🫢